Product Summary
The KBPC5010 is a 50A high current bridge rectifier.
Parametrics
KBPC5010 absolute maximum ratings: (1)Peak Repetitive Reverse Voltage, VRRM: 1000V; (2)Working Peak Reverse Voltage, VRWM: 1000V; (3)DC Blocking Voltage, VR: 1000V; (4)RMS Reverse Voltage, VR(RMS): 700V; (5)Average Rectifier Output Current @TC = 55℃, IO: 50A; (6)Non-Repetitive Peak Forward Surge Current 8.3ms single half sine-wave Superimposed on rated load, IFSM: 400A; (7)Forward Voltage Drop (per element), VFM: 1.2 V; (8)Peark Reverse Current At Rated DC Blocking Voltage, IRM: 10μA when TC=25℃; 1.0mA when TC=125℃; (9)Typical Junction Capacitance (per element), Cj: 300 pF; (10)Typical Thermal Resistance Junction to Case (per element), RθJC: 1.5 K/W; (11)RMS Isolation Voltage from Case to Lead, VISO: 2500 V; (12)Operating and Storage Temperature Range Tj, TSTG: -65 to +150℃.
Features
KBPC5010 features: (1)Diffused Junction; (2)Low Reverse Leakage Current; (3)Low Power Loss, High Efficiency; (4)Electrically Isolated Metal Case for Maximum Heat Dissipation; (5)Case to Terminal Isolation Voltage 2500V; (6)UL Recognized File # E157705.
Diagrams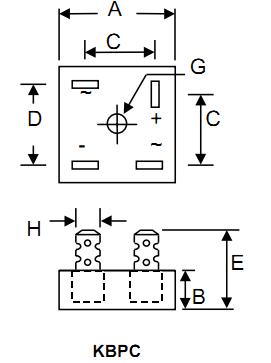 Image
Part No
Mfg
Description
Pricing
(USD)
Quantity

KBPC5010

Other



Data Sheet

Negotiable

KBPC5010-G

Comchip Technology

Bridge Rectifiers DIODE RECT BRIDGE 50A 1000V

Data Sheet



| | |
| --- | --- |
| 0-1: | $1.48 |
| 1-10: | $1.44 |
| 10-100: | $1.40 |
| 100-250: | $1.34 |


KBPC5010W-G

Comchip Technology

Bridge Rectifiers DIODE RECT BRIDGE 50A 1Kv

Data Sheet



| | |
| --- | --- |
| 0-1: | $1.48 |
| 1-10: | $1.44 |
| 10-100: | $1.40 |
| 100-250: | $1.34 |


KBPC5010W

Other



Data Sheet

Negotiable